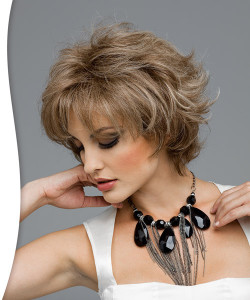 Wigs have been around for a long time, but recently, they have become the rave. People usually wear wigs to cover bad hair situations, bald head and any hair look you wouldn't be caught dead with outside your home.
For women who are losing hair due to medical conditions, medical wigs are your saving grace. If you are upset about your hair loss, relax, there are so many options for you to choose from.
You can go with a wig that is similar or identical to your hair, or you can decide to explore and find something new and exciting.
About Medical Wigs
Today's Medical Wigs are specially designed in a way that they can be worn on the head and would look like the real hair of the wearer. Nowadays wigs come in various styles so they can suit the requirements of everybody.
What are Medical Wigs made of?
These are called wig strands. There are three types:
1. Human hair: These are the most expensive types, but they give the best natural appearance. They also feel very soft and won't be itchy or uncomfortable on your skin. Also, they can be coloured and styled as you want. The hair goes through processing techniques and is usually treated to make it stronger and last longer.
2. Synthetic hair: They are considerably cheaper than a human hair and last longer. However, they can easily be damaged by heat from things like a curling iron, hair dryer, etc., so you should keep synthetic hair away from those.
3. Animal hair: These are not as popular as the human and synthetic hair. Horse, buffalo, goat and yak hair are the most common types used in making these wigs.
What types of wigs bases are available?
1. Full lace wigs: they are the most natural looking and the most comfortable to wear. Full lace wigs are commonly made with human hair, but sometimes, they also include some synthetic hair. When using full lace wigs, you can style your hair in whatever way you want, part it at any angle, braid it or just let it fall naturally. It offers maximum flexibility.
However, they can be quite expensive, and they wear out easily.
2. Partial lace wigs: these wigs are used for the frontal part of the hair. To give the wearer a natural looking hairline, short baby hairs are attached to the lace sides just as natural hair grows. The lace usually appears only in the front area of the head and the remaining wig base is made from monofilament polyurethane materials. These materials are stronger and more durable than lace.
3. Non-lace wigs: they are the least expensive and most durable. They are made solely from monofilament, polyester and nylon mesh materials. When using non-lace wigs, the hair can be worn in different ways,
How do I wear my wig?
These are easy to follow steps:
Get the wig ready: use a clip to hold the hair away from the edges of your wig. If you are using a lace wig, use a pair of scissors to trim the lace around the edges so it would be as close to the hairline as possible.
Get your hair ready: you can braid your hair backwards. Make sure you pull all hair strands away from your hairline. You can use a flesh coloured wig cap if you prefer
Get your skin ready: soak a cotton ball in an alcohol solution and use it to wipe around the hairline. This is to remove oil so the wig can be securely attached to your skin.
Apply adhesive then wig: if you choose to use adhesive glue, use a small makeup brush to apply a thin layer to the hair line. If you are using a soft bond glue, wait until the glue feels tacky to the touch then apply your wig (gently) working around the hairline until it is all covered.
However, if you are using strong bond glue, apply immediately using the same process.
For adhesive tape, cover the entire hairline with the tape then cut. Attach one side to the hairline and press firmly then take your wig, and start lining the edges up with the tape. Start at the centre of the forehead and work out towards the temples.
Style! : Once you are sure the adhesive has set, (this usually takes a few minutes) gently brush the hair into your desired style.
Take advantage of the options available to you and remember, no one cares about a good wig, but a bad wig will surely be remembered because it would so obviously be a wig.