Keratin Complex Hair Smoothing - Controls Frizzy and Unruly Hair
KREATIN COMPLEX HAIR-SMOOTHING TREATMENTS
Treatment complex for hair-smoothing which controls frizzy hair making it smooth, shiny and healthy looking.
Signature smoothing ( lasts 3-5 months)
Same day smoother ( Glycolic Hair-Smoothing)
Keratin Complex Express ( lasts 6 weeks)
Blonde smoother ( for high lifted and/or sensitive hair)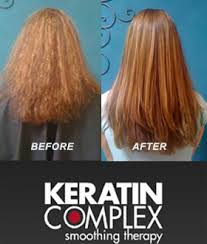 From Treatment Manufacturer SMOOTHING THERAPY INFORMATION
"Straightening vs. Smoothing
Keratin Complex Smoothing Therapy is different. Conventional straighteners or relaxers may break the protein bonds within the hair's structure, causing each strand to reform into a permanently straight shape.
Keratin Complex's revolutionary technology does not break the hair's bonds, instead delivering the versatility of smoother, healthier-looking hair that can be styled wavy or straight as desired.
Keratin Complex's signature keratin works effectively on all hair types. Our unique Smoothing Therapy treatments contain high concentrations of keratin that penetrate throughout the hair structure, and then are sealed within the cortex to repair damage."
https://www.keratincomplex.com/about/the-science/smoothing-therapy/
Before and After Hair Salon Smoothing Treatment