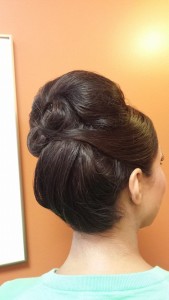 Are you getting married soon or plan to be?
Then you must be swamped with a lot of choices on everything you need for the perfect wedding. I'm going to be guiding you on the hair part, and hopefully, you can make a decision here on what your ideal wedding hairstyle would be.
You can go from totally put together, to messy but cute, to buns with braiding…, the list is endless for you.
This is a list of some of the options available to you:
Cheekbone layers: this is a very simple but classy style. The hair is cut in a deep side part with a low bun knotted behind loosely. The hair hanging at the sides of the face is teased just so that it is grazing the top of the cheekbones. This style is excellent for enhancing the angles of the face and giving it a contoured look.
Braids infused
You can do this with wavy hair. The Just part in the center and make loose French braids at the top, weaving down to the back of the head where you can wrap it all together and pin it up in a bun. Simple but chic!
Framing curls
You can totally do this style with textured hair. The hair should be allowed to dry, and then a small wand (the smallest you can get) should be used to curl all the hair that would be framing the face. Bigger coils can be made in the back of your head to give it that wavy look, but it's going to be held up in a bun at the back of the head. Those beautiful curls should frame the face and fall softly to give the slightly curly but wavy look.
Wavy with a bang
If your hair has many volumes and you don't mind cutting your front hair into bangs, you can try this. Blow dry the hair with a round brush to give it, even more, volume then curls it slightly with a curling wand. Hold up the sides into a small ponytail with a rubber band (you can wrap strands of hair around it to conceal it), and then style your bangs.
That's it! I hope you've found something that would suit your style and needs.